What WAG Offers
"If you are going to do something and be successful at it you need to have passion and be enthusiastic about it. Our passion and pride is quality Aged Cheddar Cheese!"
-Kate Neumeier Clarke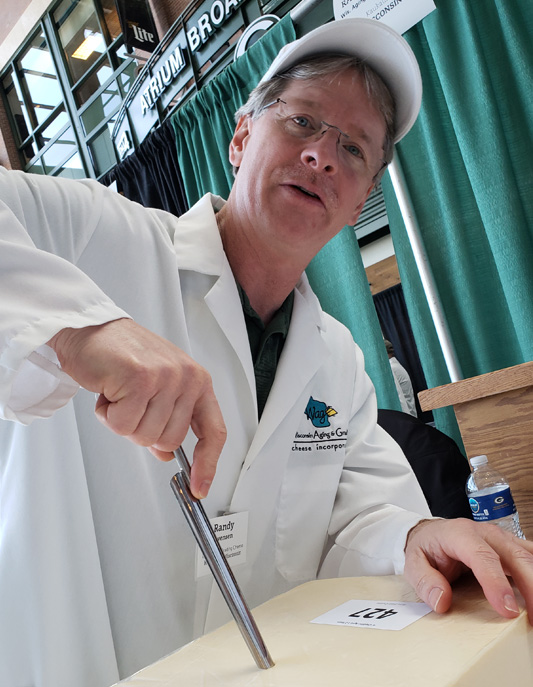 Randy Swensen is a Licensed WI Cheese Grader and has been in the industry for over 3 decades and licensed for two of them.  He has judged at the World Championship Cheese Contest and is also a Red Hat,  the US Championship Cheese contest,  the Green County Fair and most recently as Chief Judge at the Wisconsin State Fair.
GRADING
SIX Licensed Wisconsin Cheese Graders; 2nd & 3rd Generation
AGING CHEDDAR PROGRAMS
40# White & Yellow Cheddar; 640# Yellow & White Cheddar
CHEDDAR SPOT SALES
Fresh, 90 days, 120 days, 180 days, 270 days, 1yr., 2yr., 3yr., 4yr., 5yr., 6yr., 7yr., 8yr., 9yr., 10yr., 11yr., 12yr., 13yr., 14yr., 15yr., 16yr., 17yr., & 18yr. old cheddar
MONITORED SET ASIDE PROGRAMS
20#, 40#, and 640# Cheddar programs
FLAVOR PROFILING
Mild, Medium, Sharp, XSharp & Beyond
FUNCTIONALITY PROFILING
For chunking, slicing, shredding, drying, & processing applications.
LTL & FULL TRUCK LOAD CAPABILILITIES – Setasides and Spot Sales
CUSTOM SOURCING TO MATCH YOUR SPECIFIC NEEDS – Flavor profile, functionality, & volume
USDA GRADING – Can be arranged by customer request
WAREHOUSING & FINANCING AVAILABLE
VALUE-ADDED SERVICES….
* Timely and competitive services
* "Trier for Hire" – We grade the cheese for what it is
* Confidential grading evaluation
* Listening and asking quality questions
* Detailed services from placing the order until the truck ships